Risk & Insurance
Not-for-profit Insurance 101
A comprehensive guide to the insurance options available to NFP's
When running a not-for-profit organisation (NFP), regardless of the service you provide, you make a difference in people's lives. And while everything you do might be well-intentioned, sometimes it doesn't take a lot for things to go wrong. Insurance can help protect you in the event something does go wrong, but how confident are you with the cover you have and how well do you understand the different options? To feel assured that you have the right cover in place, you not only need to assess your organisation's needs, but also take the time to understand the various cover options available to NFP's – hint: the options are different to those that are available for your personal insurance and the covers available to small businesses.
Why should NFPs consider insurance?
We think there is no such thing as an organisation that doesn't face risk in some way or another – no matter how simple the services you provide are, the likelihood of something going wrong will always be there. If you're a not-for-profit though, it's possible you have even more to lose if something goes wrong. Your relationship with your sponsors, supporters and clients is based on trust, so if your organisation was held liable for injury to someone, or an officer was accused of a wrongdoing, it could not only lead to heavy financial burdens for your organisation, but the resulting damage to your image and reputation might be beyond repair. This is where insurance can help play an important role in safeguarding the health of your organisation. By stepping in and helping to cover your out of pocket costs if such events occur, it can help make sure your organisation is not left with significant financial debts or fines.
Can I run an NFP without insurance?
Depending on the nature of your service and industry you operate in, you are likely to have contracts in place whether for government funding or for the service you operate with providers, that will require you to hold a minimum level of insurance cover.

However, even if there are no minimum requirements in your field, insurance should still be an important consideration. Without appropriate cover in place, if your organisation does suffer an event such as an allegation of wrongdoing, or is found negligent for physically injuring a third party, the financial burden of damages and legal fees and other costs may be too much for your organisation to bear without going into debt, and might even be severe enough to force you to have to close your doors.

In short, running an NFP without insurance in place means you leave your organisation potentially exposed to substantial risk of financial hardship should certain incidents occur.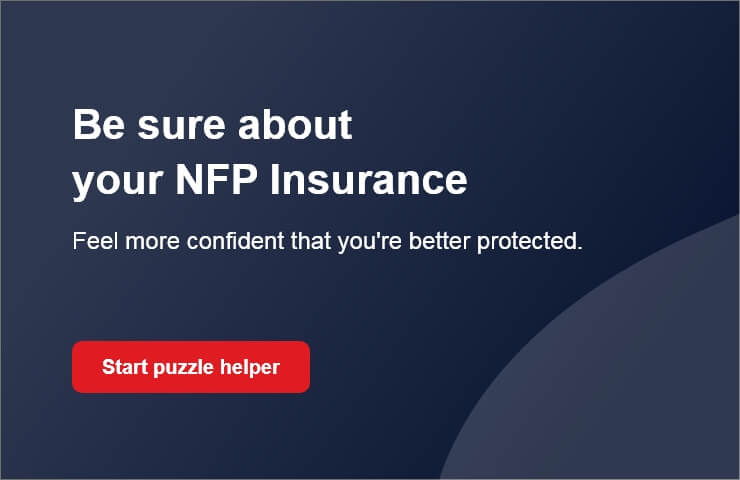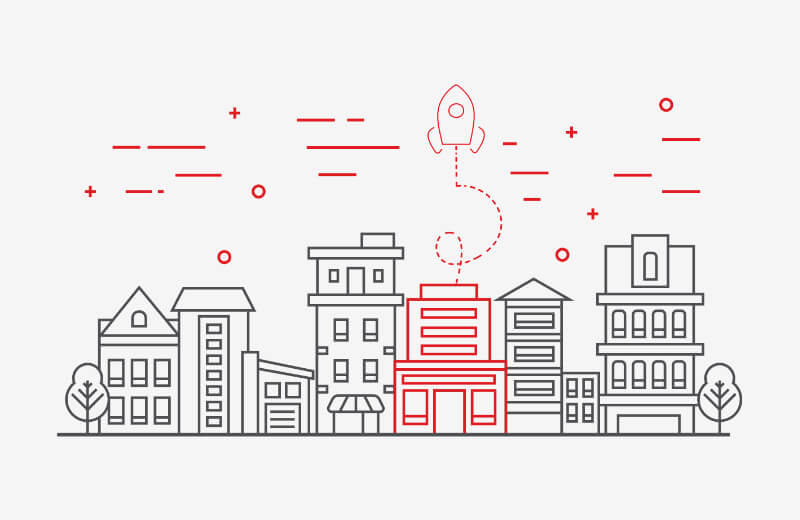 What are the different types of NFP Insurance?
Property / Business Interruption
The first cover option we'll discuss is cover for your property. This is applicable to organisations that operate out of physical business premises, and may include cover for damage that occurs due to events such as fire and storm1. A property policy usually consists of sections of cover that you can choose from depending on your needs. The sections of cover available are1:
Fire – including bushfire, as well as fires started accidentally at your premises, or neighbouring business premises.
Storm – including cyclone, hailstorm, strong winds.
Theft/Burglary – this not only helps cover the items stolen from your premises, but also damage caused to your premises during the burglary such as broken doors and windows and vandalism.
Money – cash kept at your premises can be covered up to a certain limit, for events such as theft and fire.
Business Interruption – an important feature under property policies, Business Interruption is designed to help cover your lost revenue while your business is out of action due to an insured event. For example, if there is a fire which leads to damage to your office, Business Interruption is intended to help cover the loss of revenue you incur while your site is being repaired.
Glass – including accidental breakage of glass, as well as malicious breakage.
Machinery Breakdown – if machinery you use as part of your operations breaks down, property insurance can not only help cover the cost of the cost to repair or replace it, but also spoilage of products that occurs due to the breakdown.
Employee Dishonesty – helps cover dishonest actions by staff, such as stealing money or stock (with the option to include volunteers).
Portable Contents (General Property/Transit) –optional cover for items you take outside of your premises, such as tablets, cameras and mobile phones.
As you can see, Property insurance is very much designed for organisations that operate out of physical premises. However, if you run your not-for-profit purely online (say, from home), then it may still be applicable to you as your home insurance may not cover the electronic items you use to run your not-for-profit.
Cyber Insurance
Cyber Insurance is another important cover to consider for not-for-profit organisations. It is designed to help cover financial losses you incur as a result of a cyber incident or cyber crime. It might not sound like a cover you would need as you think you don't have anything worth hacking, but a 2019 poll has shown that 1 out of 5 NFPs had suffered a crime, including cyber crime, during the preceding year. Some examples of cyber crime include scams, hacking, malware, virus transmission and business email compromise. Cyber Insurance is an especially important cover to consider for organisations that have a digital presence, for example if your organisation has an online platform for donations. Even if you don't have a digital presence, any organisation with a computer connected to the internet faces the possibility of falling victim to an attack such as malware.
Volunteer Personal Accident
If you have employees, you probably already have Workers Compensation cover which will provide compensation in the event of workplace injury, but remember that Workers Compensation coverage does not usually extend to volunteers. The health and safety of your volunteers is just as important as the health and safety of your employees, so having the right cover to help protect your volunteers in the event of accidental injury or death is also a very important consideration for your organisation.
Volunteer Personal Accident helps cover your volunteers if they're accidentally injured or die while they're carrying out activities for you. It helps cover the cost of non-Medicare medical expenses excluding any gap payments, due to the injury and loss of income your volunteers incur as a result of the injury. Remember, even if your volunteers are not earning an income from your organisation, it's possible they have a day job. If they're hurt while volunteering for you, then they may be unable to continue working their day job, and may suffer financial hardship. Hence, VPA is an important cover for you to consider.
Protector/Association Liability (Professional Indemnity and Management Liability)
Protector/Association Liability is a cover designed for businesses and organisations that have a board or employ officers to make managerial decisions. It includes cover (compensation and defence costs) for a number of events1:
Professional Indemnity – applicable if your organisation provides advice or professional services. It helps provide cover in respect of claims by a third party or client that your advice or service caused financial loss.Management Liability – this is designed to help cover your managers and/or officers if they face an allegation of mismanagement, such as breach of duty or incompetent supervision.
Association Liability – this helps cover losses which may arise from a claim made or commenced against the association for alleged breaches of duty or other wrongful acts.
Employment Practices Liability – helps provide cover in respect of alleged wrongdoings against employees, e.g. unfair dismissal, discrimination & bullying/harassment.
Employee Fraud & Dishonesty – unlike the other covers, this insurance helps provide cover for financial loss suffered by the organisation incurred from fraud, or other dishonest actions by employees. There is also an option to upgrade to full crime cover which includes theft by a third party, as well as claims made by those who have suffered a financial loss as a result of the crime.
Superannuation liability – helps cover for liability arising out of activities in the management and operation of an NFP's own superannuation fund. Cover generally applies to the fund, trustees and the organisation.
Public Liability Insurance
Public Liability is designed for organisations who own or are legally responsible for the physical premises, or have interactions in person with members of the public in their operations. There are few organisations and business that don't need to consider Public Liability. It includes cover for claims made against your organisation where a third party alleges your activities caused them bodily injury or property damage. For example, if an attendee at a fundraising event tripped over a wire that had not been secured properly and suffered an injury, and held your organisation liable for the injury.
What type of NFP insurance do you need?
As you can see, there are a number of options available to not for profit organisations when it comes to insurance. Depending on the type of activities your organisation is involved in, you might need to consider just one of the above, or all of them. It's important to carry out a thorough assessment of where you face risks in your operation, and protecting yourself against these risk – our insurance puzzle helper can assist with this. Aon's dedicated team of experienced NFP insurance specialists only deal in NFP and charitable insurances, and are available by phone and email to discuss your options, and help you make a well informed decision about your coverage.
---
Talk to our specialists
Prefer to discuss before you buy? We are here to answer all your questions over the phone.
1800 123 266

Get the latest articles delivered to your inbox
1 Subject to full terms, conditions and limits of the policy. Please review the full policy wording for more information.

In arranging certain NFP policies, Aon has binder agreements with relevant insurers under which Aon is authorised to commit such insurers to providing cover without reference to them. When acting under a binder we will be acting under an authority given to Aon by the insurer and will be affecting the insurance contract as agent of the insurer and not as your agent. Our binder arrangements with insurers are such that we remain your agent in the handling of any claim.