Wendy Hancox is the Director of Ahead for Business Pty Ltd. Her love of working with and analysing numbers led her to pursue a career in the finance industry, but she soon realised that becoming overqualified in the field presented its own challenges. Read about her journey below, and find out how she built up her own client base allowing her to start up a business, and advice she has for other women wanting to follow a similar path.

Tell us a bit about yourself and your journey to starting up your business.
"I'm originally from the UK. When I finished uni, I applied for jobs at a few large corporate firms. At the first interview, after the initial introductions, I was told "I think I should tell you that we already have our quota of women". I could have been the best candidate they ever had but they weren't going to even consider my application. Thankfully, other firms were more open minded and I found employment soon afterwards. After reaching Audit Manager level, I moved to Australia. I wanted to be a business consultant, but potential employers were looking for less experienced (and less expensive) people. So I worked as a contract accountant through an agency whilst I brought myself up to speed on Australian law and tax. I started to win clients of my own. I continued to work as a contract accountant part time whilst I grew the client base until it became a full time business. I had become a business consultant but as a business owner."

What does a typical day look like for you?
"A typical day involves analysing client's results and looking for good or bad trends, thinking of smarter ways to do things to save time (and money) or legally reduce tax. I work as chief financial officer for some clients - looking after cash flow, budgets, costing products and helping directors with strategic thinking. As an owner of a small business, I also spend time working on my business - eg planning ahead, marketing, resources (staff and technology)."
Wendy Hancox, Director of Ahead for Business Pty Ltd
Find your strength and develop that into what makes you different from the crowd. That strength could be that you are a woman.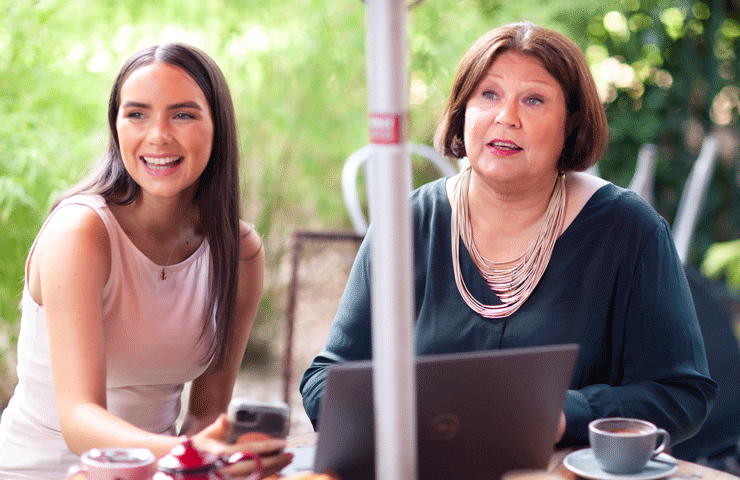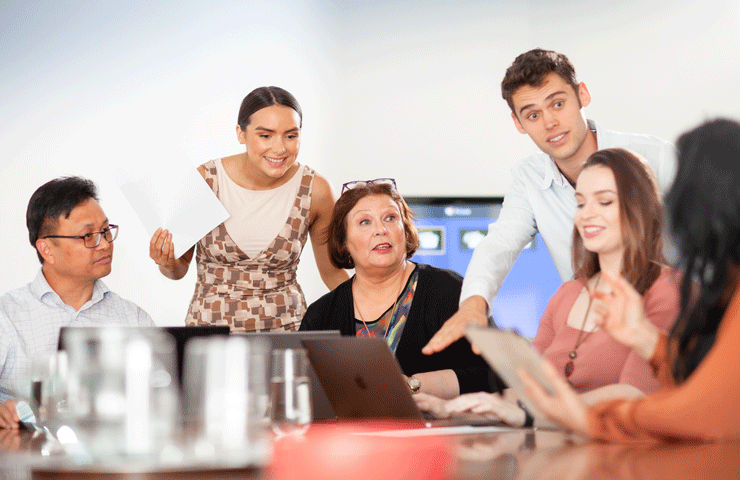 How do you balance running a business with life in general, and make sure your business doesn't take over your life?
"A business owner has to manage all aspects of their business, there is always something to do. My philosophy is to put the hours in during the week if necessary, but don't take work home, don't work weekends and have a long weekend every couple of months. Business owners can lessen the burden by engaging experts to address areas outside of their strengths. Not only will it free up their time, it will provide a better result."

What was the biggest surprise (or challenge) to you when you first started your business?
"The challenge when I first started the business was to find businesses that needed hands-on business advice that would bring them a real benefit and not just accounting and tax compliance. I also worked on gaining sufficient clients to make a full time business . I met this challenge by working on as a contract accountant on some days and working in and on my business the rest of the week. I kept costs down by working from home and travelling to clients."

What advice do you have for other women who just started a business, or are thinking of opening one?
"Don't go into business unless you mean business. In my experience, running a business "on the side", rarely makes money. Sometimes, it's better to be employed. Do your research and planning before deciding to start your business and make sure you have the financial backing to do it properly.

Find your strength and develop that into what makes you different from the crowd. That strength could be that you are a woman. Many women prefer to deal with women in business. They want to support women because they have experienced male dominated sectors and the prejudices.

Recognise your weaknesses and find the help you need. Asking for help isn't a weakness, it's a strength and something women do much better than men. You will be spending a lot of hours in your business, so it needs to something you enjoy and will bring you rewards (other than money). Running a business is hard work, you'll learn a lot but it's fun.

Join with fellow business owners where as a group, you can share the good and the bad and help each other develop.

Once in business, be confident and be assertive. I always shake hands (not a weak handshake) with business men and women I meet. For me, it means "we're all in business here".

And no matter what your age, don't let anyone call you a girl or darling... you're a woman."
Get the latest articles delivered to your inbox
The views expressed are those of the interviewee only and do not necessarily reflect those of Aon. Aon has taken care in the production of this document and the information contained in it has been obtained from sources that Aon believes to be reliable. Aon however does not make any representation as to the accuracy of the information received from third parties, nor its suitability of fitness for any purpose. This information is intended to provide general information only. It is not intended to be comprehensive, nor does it, or should it (under any circumstances) be construed as constituting legal advice. You should seek independent legal or other professional advice before acting or relying on any of the content of this information. Aon will not be responsible for any loss, damage, cost or expense you or anyone else incurs in reliance on or user of any information contained in this document.